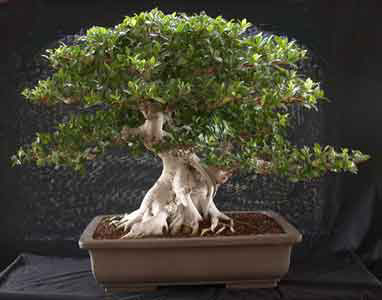 This tree was purchased in Taiwan in 1989 and shipped by air to the United States. It has lived very happily in my greenhouse for these years.
It has been encouraged to develop secondary and tertiary branching and a general refinement of its structure. The trunk has seemingly not grown but the branches have thickened significantly and the apex has matured. It is wired twice a year, wild growth is trimmed frequently and the tree has been leaf pruned once a year for the last several years. It takes about 7-9 hours to wire this large tree completely and almost the same amount of time to unwire it a few weeks later.
I would like to eventually plant the tree in an oval pot with grey or green glaze.
This tree is 30 inches tall and the trunk is 10.5 inches wide at the first branch level.